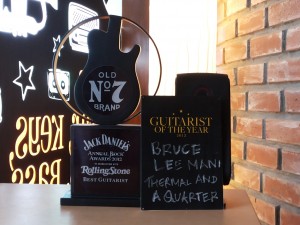 The 2012 Jack Daniels/Rolling Stone Rock Awards
turned out to be more than just another wild Bruce chase, with TAAQ's resident guitarslinger winning the Best Guitarist award for the second time! When asked if he's in training for a hat trick, Bruce grinned inscrutably and could be heard to mutter 'I'll get you in the end'.
This chronicler caught up with the Kung-Fu guitar man for a quick chat:
What do awards like this mean to you?
BLM: Oh, it's all in a day's work, ha ha. But seriously, it nice to be recognized by your peers in the 'industry' as it were. The whole 'best guitar
player' thing is so subjective anyway, so I count myself lucky that this year's jury liked what I do. And the award itself – oh yes, that looks nice on that shelf in Taaqademy…
What's more important to you as a guitarist: technique or songcraft? Or can you separate these two things at all?
BLM: Ah, now we're
talking. Guitar playing technique and songcraft can be viewed as essentially different things – you can find some amazing technicians on the guitar that don't write great songs, and some amazing songwriters that don't play very good guitar
. For me it's all part of the same formless 'musician' thing. Being self-taught, with guidance from some amazing folks at opportune times, I guess I've grown as a musician and songwriter mainly with this one band. I've played for all kinds of ensembles, but TAAQ is the only thing that's consistently kept me evolving – both as a guitar player and songwriter. There are times when I focus only on the technical aspects, improving my facility with the instrument, and there are other times when I'm just writing and composing and putting lyrics down – it's all very organic I'm afraid. Which means that it smells weird at times, but that's good too. Very natural.