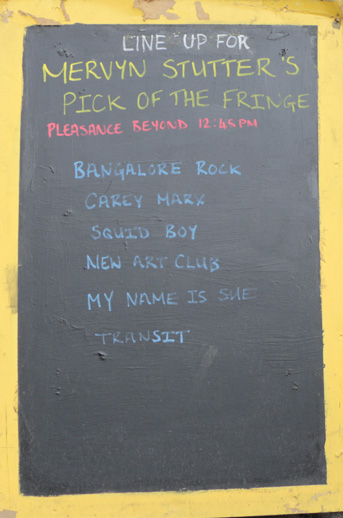 For 22 years (the longest-running, oh yes), Mervyn Stutter has put together one of the best-loved shows at the Edinburgh Fringe. His 'Pick of the Fringe' showcases the top acts from the 3000 or so present every year, making for a highly enjoyable 90 minutes – offering quick glimpses into the best of the theatre, dance, music and more at the festival. Mervyn is an AMAZING performer, songwriter and compere himself, making the entire package one of the un-missable shows at the festival. We'd heard about his gig, and even dreamed that one of his expert minions (for surely, a star such as he would
have them by the bushel) would chance by our show, and deem it worthy to feature on 'Pick of the Fringe'!
Well, an expert did show up. His wife, Moira. Beautiful,
gentle and ever-so-gracious, she popped in to our gig
on a Saturday night, watched the whole thing and then waited 15 minutes (our pack-up time) in the cold outside to speak with us and welcome us to Mervyn's show. It was kind of hard, at the
time, to stop jumping up and down and whooping etc. Grinning like idiots we walked back home. Thanks to Steve Cardownie and the Bellevue Street Party gig (more on that later) we happened to have a drum kit and amp available. Ah serendipity.
Well, Wednesday the 14th was as fantastic as we expected. Great crowd, great venue, some fantastic other acts… and us, wrapping things up at the end, getting everyone to holler the 'Hey' in Look at Me and dance in their seats on Hoedown. Watch out for that video, coming soon.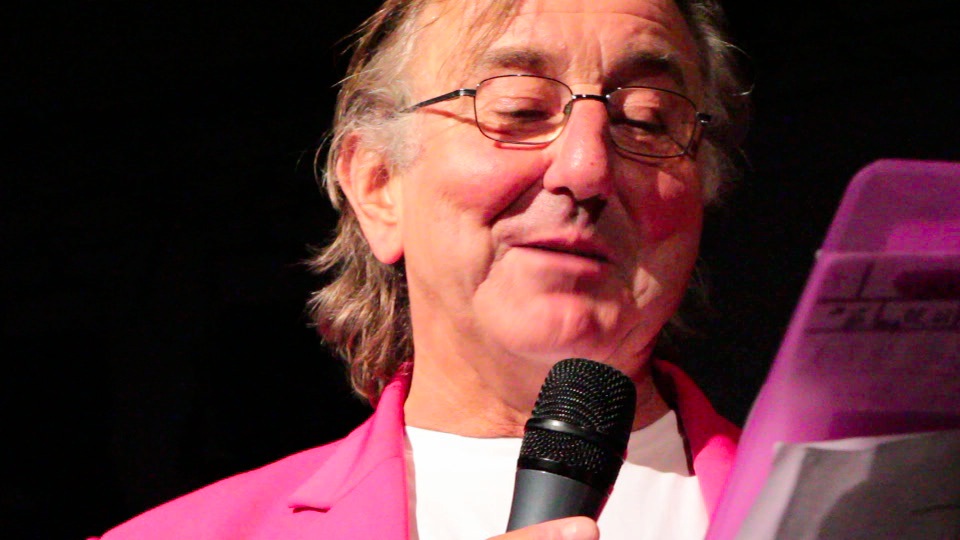 Mervyn puts everyone at ease, chatting with each performer, putting all the right promo stuff out for people to see and hear, ensuring that each act gets the attention it needs, thus sending more people to the shows. It's an amazing thing to do. And it's done so well.
It was a real honour, being invited to be a part of this
iconic Fringe event.
If you thought this couldn't get better, it just did.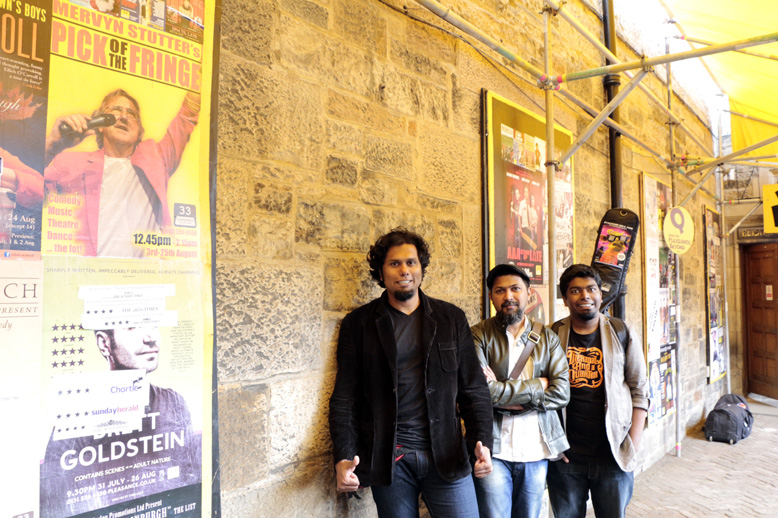 Mervyn called us today. Himself. To tell us that we'd just won his 'Spirit of the Fringe' award, and would we like to reprise our showcase gig for his finale show on Sunday the 25th? Naturally we hummed and hawed and eventually accepted
. Mervyn's Spirit of the Fringe Award is one of the longest-running awards at the Edinburgh Festival, given out every year since 1992! Apparently, the Scotsman (local big media) launched its own 'Spirit of the Fringe' award a few years ago, without acknowledging Mervyn's precedence! Ah, well.
So there we are, folks. Our first Fringe,
and it's raining and pouring and we're loving
it. Wish you were here!
Check out more pics from our first showcase gig here. Videos etc coming soon.
Cheerio!