Kicking off the Bangalore Rock tour!
Inter-national flights are always bloody inter-minable. But the Air India 787 Dreamliner was a darned comfortable ride, and the crew was fun, plying us with much drink and drink. The most (ir)rev. Leslie Charles experienced a somewhat unsettling personal vidscreen – it stubbornly displayed only the flight path, with the little grey jet stuck somewhere above Kandahar, Afghanistan. Maybe he was intending to bail out there
and attempt some mass conversion of the natives…
Landed in Heathrow 10:30am, get through immigration without a hiccup and get all our bags too. Our tour bus is somewhere outside; the driver, Mark, finds us easily enough and we step into the warm London sunshine (with the heatwave on, it's a balmy 20+ degrees and there is dancing in the streets). Quick detour to pick up two acoustic guitars from Gibson – kind enough to loan them to us for the entire Fringe run and beyond. Thanks Heena for setting that up! Meet David at the Gibson office, and get some kind advice and insights into
the Fringe and what it takes to make the most of it.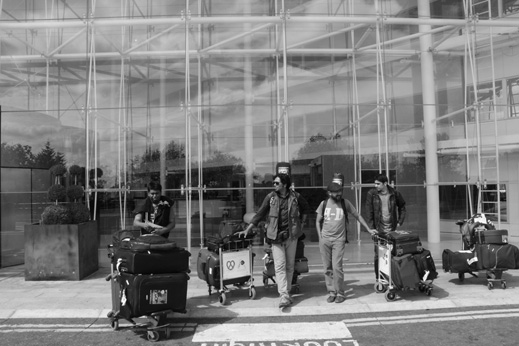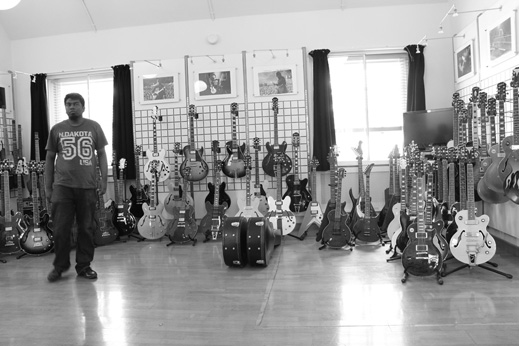 The Gibson office is apparently close to Abbey Road. Beatlemaniacs all, we've gotta go. Get there, find a place to park and find many other similarly affected souls attempting the great crossing. Lots of passing traffic, all with long-suffering smiles. Leslie, the most hardcore among us, does it barefoot. It's a lovely place and with the great weather, we lollygag about, soaking in the vibe…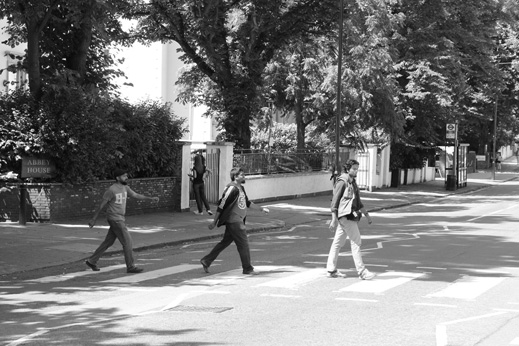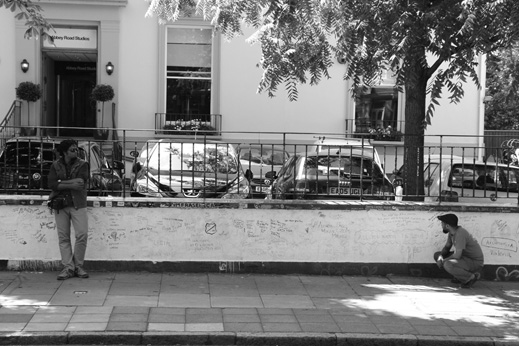 Back on the bus, we have a quick chat with Mr. Sunil Chandy (our founder bass player) and his lovely wife, Luiza. Seems possible the man will make a trip to Edinburgh to catch one of our gigs. Rah! Stop at a Tesco for snacks and supplies and then we floor it on the motorway. Some stunning scenery. Get in to Edinburgh late – about 10 pm – and it's still blinking bright, not even twilight yet. Drop in to another friend's house – Dr. Rayner Lazaro – he's got the keys to our apartment in town. Rayner is the original Dr. Feelgood, if anybody wants to know. Find the place after a bit of faffing about with the GPS, and discover it's three flights up to our apartment. 24 bags in total. Aaaaargh.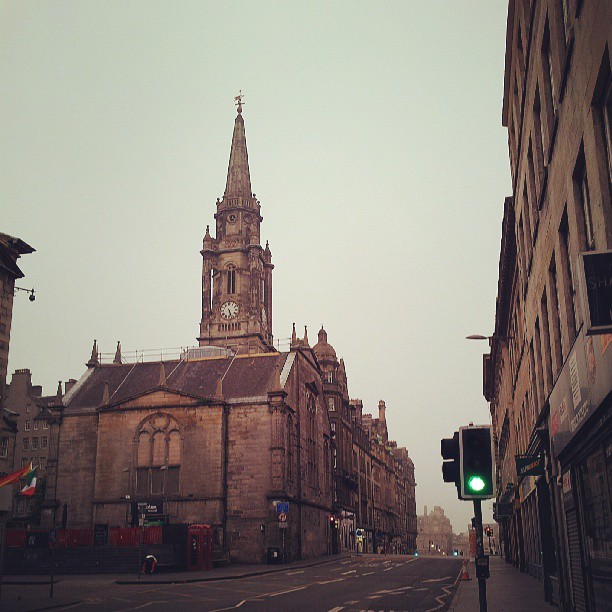 Next day spent stocking up the kitchen and getting used to our rather neat and cozy apartment – which is amazingly right next to High Street and all the town hotspots. Super!
On Thursday, we decide to catch a gig at the Tron Kirk – a 17th cent Chapel, now used only occasionally for gigs and suchlike. It's a few steps from our apartment. Beautiful, cavernous interior, wood ceiling, crumbling stone walls and some stunning stained-glass. Halfway through the first act, The Rosie Nimmo band, we meet Steve Cardownie, make an instant connection (he's been to Bangalore) and a few beers
and a couple of pizzas later (his treat), this wonderful outspoken man has gotten us a gig at this venue on Saturday! What a trip.
We get to the Tron again
on Friday, this time to watch the Bill Kemp trio – billed as 'a rare performance by this great jazz drummer and his swinging trio'. Google isn't
giving us much on the man, but we go anyway. And what a treat that was. With Ian Mathieson on piano and Peter Lowit on upright bass, they ran through some standards and oddities (including a tune by Nina Simone, and Holliday's 'God Bless the Child'). Watching Kemp play was inspiration, education and more, all at the same time. Jaw-dropping mastery of technique, texture, swing – he had
it all. As Rajeev put it – "the man is singing with the drums". Met them after the gig and share a few words and pictures.. discover that Bill has been in India, 1960, to play a gig! Gracious and kind, he wishes he could watch us play, but
has to leave back to Aberdeen for another gig.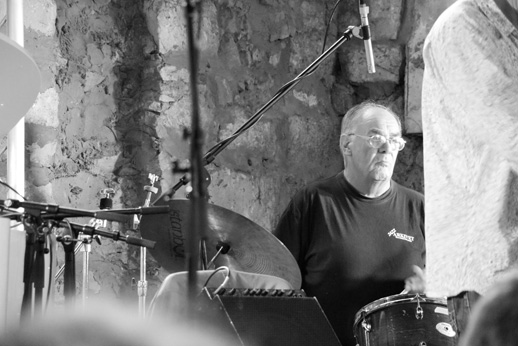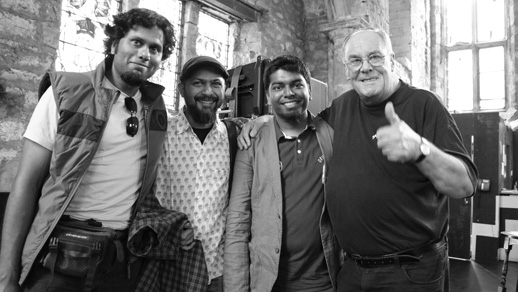 Spend the rest of the evening at Rayner's and we have a barbeque. Stuffed to the gills with Bratwursts and bread rolls we delve into old and new times…
Saturday: Gig night! We get a quick rehearsal in – during which there's a power cut. We kid you not. Feeling right at home, we carry on, 'unplugged'. 9:30 pm, we get a line check and then we're off! Sizable crowd, seated and there for the music. Blast through a 90-minute set and it looks and feels like they're lovin' it! Good start eh, me hearties? Now's when the real work begins…
Some quick pics from the gig: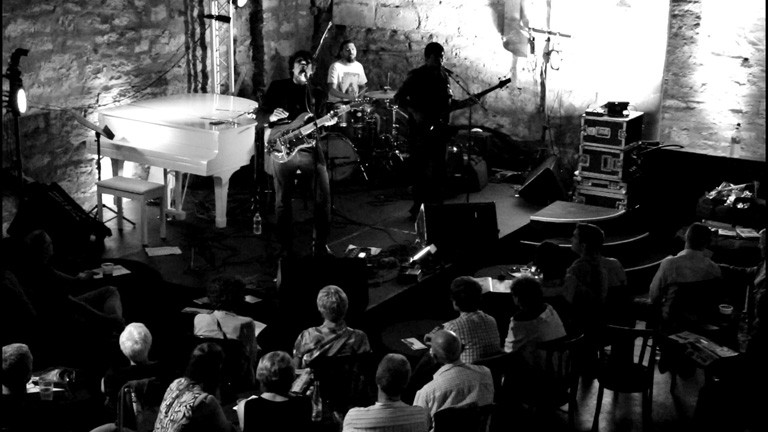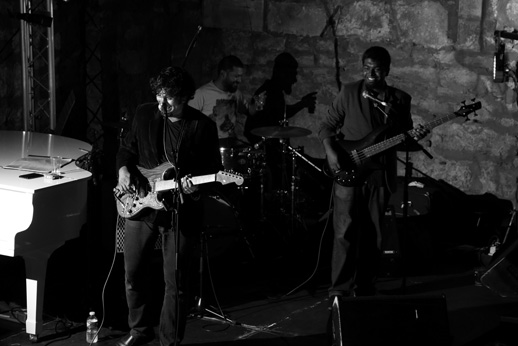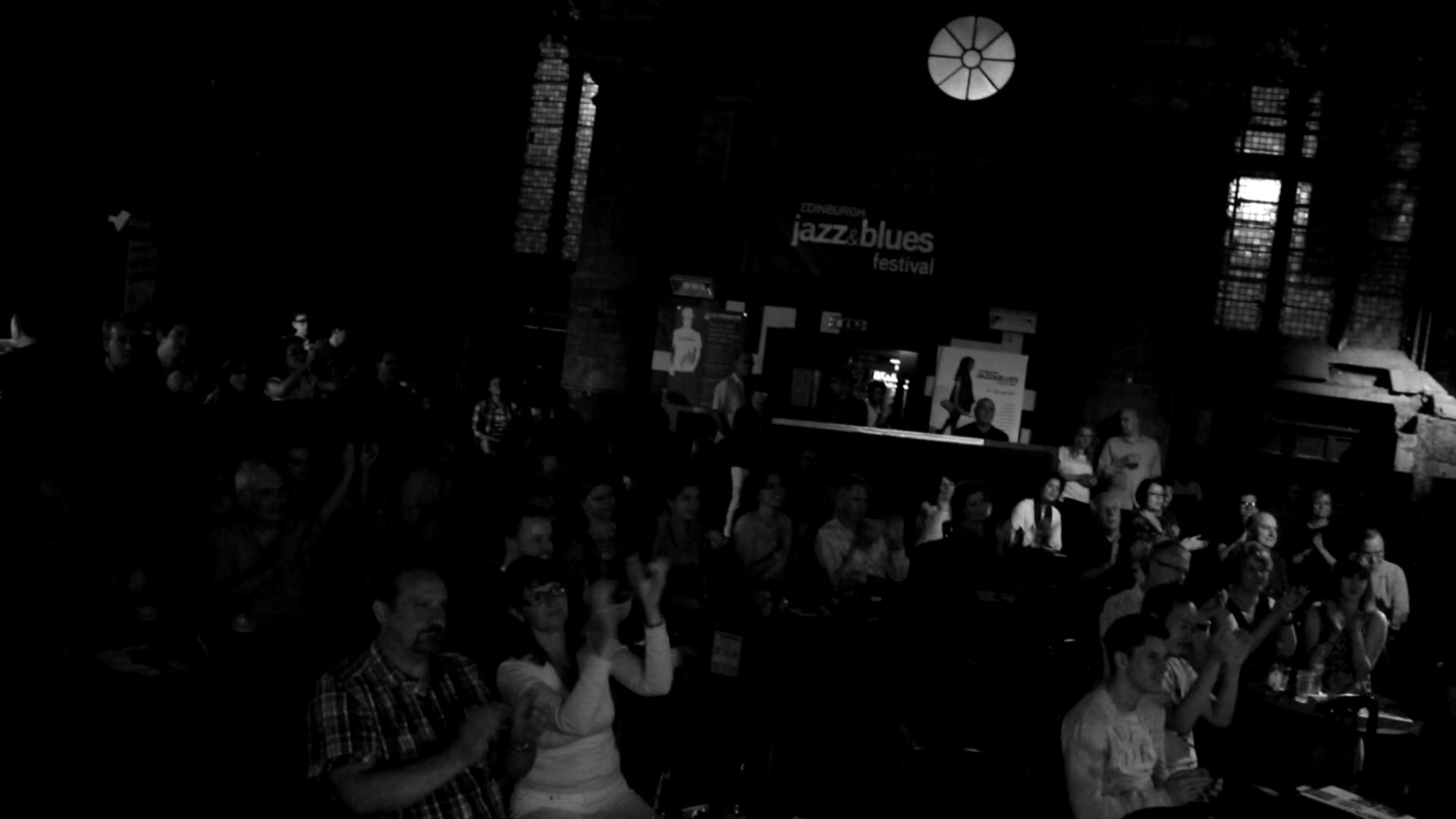 …and thanks to
Charlie Kang (@King_Kang) for this pic: